US - Mustang 3017 (May 1966)
A wild Farfisa-organ and reverbed-guitar driven instrumental, save for the ghostly repeated lines "Back Seat '38 Dodge" and "What goes on... I really wanna know...". With a driving surf beat which doesn't let up and more echo than Wookey Hole, the whole record sounds like a car crash waiting to happen, and maybe that's what its slam-bang-clang finale is suggesting. Although, there is another possible interpretation...
The title was inspired by a 1964 sculpture by Edward Kienholz named "Back Seat Dodge '38" (which lyrically doesn't roll off the tongue so well). Depicting a couple drunkenly making out in said vehicle, it drew massive controversy and accusations of tastelessness and obscenity. The Los Angeles County Museum of Art, which displayed the sculpture was threatened with having its funding withdrawn unless the offending display was removed. Eventually, a compromise was made whereby the car door was kept closed unless a curious (over 18) patron requested a closer view of the interior...
Image from pictify - uploaded by user bALANelcher
The following footage is taken from a 1969 documentary on Keinholz, and shows a group of museum visitors viewing the sculpture at its original showing.
Footage copyright June Steel, from the Getty Center's Pacific Standard Time online exhibit.
Read more about the life and work of Edward Kienholz at Wikipedia.
Anyway, back to the band. They were Brian Decker (lead guitar), Doug Decker (bass), Pete Parker (organ) and John Christensen (drums). All shared the minimalist vocal duties on the track. The attempt to cash in on the controversy of the exhibit didn't pay off, and the record faded into obscurity. However, hindsight is a wonderful thing and over the years the record's stature has grown. It's a classic of its kind.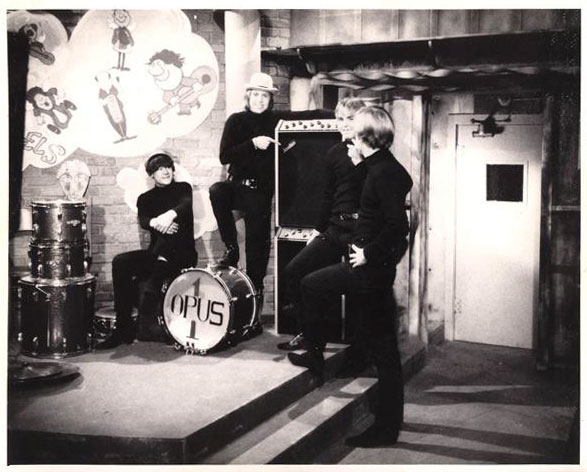 Image from a great piece on Opus 1 at GarageHangover.com.
The group had a fleeting moment of fame when they appeared in an episode of Perry Mason. Sadly, they weren't performing "Back Seat '38 Dodge", but miming to a completely different group performing a track called Jersey Bounce. If you can track down the episode (Case Of The Avenging Angel) they appear to be trying to block any camera view of their personalised bass drum skin to avoid being identified. Sadly, "Back Seat '38 Dodge" would be their only release.
Another interesting footnote: A copy turned up on Ebay earlier this year. The final winning bid? Around $1700...
YouTube user
blacflag
made this DIY video for the record by using old moviecam footage of Las Vegas, and I think it works rather well.
WHERE TO FIND IT:
Where The Action Is! - Los Angeles Nuggets 1965-1968 (Rhino box set 2009)
Del-Fi Rarities (Repetoire CD 1993)
Or, where I first discovered it, and if you can find a copy...
Highs In The Mid-60's Vol 2 - Riot On Sunset Strip (AIP LP 1983)